I love to thrift shop and I think over the years I have gotten pretty good at it. Being in the right place at the right time and having access to decent thrift stores helps but I also have learned what to thrift shop for. I do not browse each and every rack, pile, and shelf of items. That would take too much time and too much patience. I spend about 30 minutes in a thrift store. That's usually all the time I need.
With enough experience to know what I am most likely to find in secondhand shops, I save myself time and frustration by looking for certain items. My search changes as my wardrobe evolves and as trends come and go.
I have compiled a list of 10 items I look for in thrift and consignment shops, items that I see quite a bit of in secondhand shops.
 Most of these trends are my style but a few are Tori's, my 18-year-old stepdaughter. We love to thrift shop together and I always pay attention to what she shows interest in so I can be on the lookout for things for her.
In no particular order, here are the 10 things that Tori and I look for in thrift shops:
 1. Patterned Silky Blouses
Easy to dress up or down, these colorful, loud and fun blouses are making a comeback since their heyday in the '80's. I see dozens of them in the racks at thrift shops. Look for real silk or a silky polyester that's easy to launder. I like wearing my blouses with distressed denim for a stylish and casual look.
 2. High-waisted Jean Shorts
This is trend I am skipping for myself but Tori looks darling in hers. She makes a beeline for the "mom jeans" and grabs a pile of them to try on. For her, the higher the waist, the better. She cuts them off, gives them a wash or two then pairs them with a cropped sweater or tank top for a trendy summery look.
 3. Costume Jewelry
I have great luck with chunky chains, cute plastic beads from the 1960's, long faux gold necklaces and rhinestones. I also browse antique shops that sell costume jewelry for some great finds and low prices.
 4. Boyfriend Blazers
The '90's boyfriend blazer is everywhere in thrift shops. I can't tell you how many of these I passed up last year but now I actively search for them. If you want to wear this trend, prepare to get used to shoulder pads all over again! For those of us over 40, we might find it weird and familiar at the same time.
 5. Graphic Tees
As a 40-something, I do wear graphic tees but I don't cut mine up, but Tori does. She likes to find ordinary tees which are always in large quantities at thrift shops, then gets busy with a pair of scissors cropping, fringing and loosening her tee. Look online for more ideas on what to do with a thrift shop tee shirt and a pair of scissors. It's a popular trend right now.
 6. Denim Jackets
I have acquired about six secondhand denim jackets over the years. For some reason, it seems to be an item people are willing to part with. Some are faded and old – which I like – and some are dark denim with a fitted structure like this Sundance jacket. If you're looking for faded and can only find dark denim in the thrift shops, bleach it until you get your desired shade.
 7. Formal Dresses
I see dozens of formal dresses from bridesmaid frocks to prom dresses to wedding gowns. If you're not set on buying something new (that will probably see the outside world once) then try a thrifted formal gown next time you go to a dressy event. Tori found this pink ombre dress for just a few dollars. You would think she bought it off the rack at a department store.
8. Clutches
I can't think of a handbag that is more popular than the clutch this season. Yet I see them all the time at thrift shops: suede, faux leather, satin, embossed leather, and metallic. Inspect bags carefully. I often find reasons to leave handbags behind at the thrift store. But if the issue is repairable, take it to your local cobbler to fix.
 9. Long Skirts
These four skirts were all found in thrift shops. The two on the right were thrifted in Europe. The floral print was found in a friperie in Paris and the off-white denim skirt was a gift from a reader who found it at a Rome charity shop. My guess is that long skirts are hanging around in thrift shops all over the world. Look for long skirts in varying lengths from just past the knee to maxi length. And remember, a good seamstress can hem or take in your find.
 10. Oversized Sweaters
Another look from the '80's, the oversized sweater, has come back into style. Shop the men's section for the biggest and baggiest. To wear this trend, pair your giant sweater with leggings and short boots like Tori did, or you could try skinny jeans or even a pair of leather shorts.
One thing about thrift shopping is you never know what you will come across. So while these are the 10 things I look for in thrift shops right now, I always leave myself open in case I stumble upon other treasures. Who knows, I may come across a real Louis Vuitton bag, diamonds that were mistaken for rhinestones or a fabulous camel coat!
It's great to have both a methodical approach and the expectation of surprise when hunting at the thrift shop.
If you're a thrift shopper, what do you look for?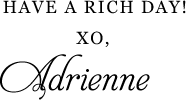 Other posts you may enjoy...