One of the many joys of summer has to be the informal—and sometimes impromptu!—parties that happen in June, July, and August.
And because there are no hard and fast rules for summer dressing, Jill of Everything Just So and I thought we should devote August's "How I Wear My" post to the Casual Party Outfit just to see how everyone styles their summertime look for all that fun socializing!
Jill of Everything Just So does casual chic so well for summer in white jeans and a black linen shirt. I love the addition of red to her look with the sleek cherry red clutch and lipstick.
Déjà Pseu from Une Femme d'un Certain Ậge wore this casual yet sophisticated look to a recent dinner party at a friend's home. I love the luxury bag and gorgeous pumps mixed with jeans and a tee shirt.
Tamera of Tamera Beardsley shows us her casual party outfit choice with this beautiful patio dress. It's her summer go-to pick for entertaining at night in the backyard. It is made of a lightweight silk, so it is  cool and the billowing skirt makes it so fun for her to wear.
The forgiving cut of the dress makes it a perfect no fuss pick for the role of hostess. Adding in her favorite bone and crystal bracelets give it the perfect finishing touch of down to earth glamour… her favorite style when entertaining at home.
Sarah of Cloud of Secrets says, "Casual party — to me that means comfort and honesty (especially if you're joining longtime friends, as I did this weekend). But there must also be a touch of the festive, and respect for my hosts.  I'll probably wear a fancier spin on my daily uniform.  Dark jeans on the bottom, something nice on the top, a comfortable heel or metallic flat, and some striking jewelry."
Catherine of Not Dressed as Lamb says that although not strictly a party, she wore this outfit to a hot air balloon festival where there was a definite carnival/party atmosphere! The weather in the UK has been boiling during July so head-to-toe white with pops of red definitely suited the occasion and the heat.
Teresa, wife of photographer Denton Taylor bought this lovely skirt at the Manhattan Vintage Show. I love how she added the black and white statement necklace and her handbag is fantastic!
Ana of Mrs. American Made wore a jeans outfit for a cooler evening backyard barbecue at a friend's house after work. Casual, but nothing says party like a cute little clutch.
Heather of StyleMindChic wore this sleek, black party outfit while on a recent trip to
Punta Cana in the Dominican Republic. She and her husband were headed to seaside drinks and dinner at Zoetry.
She wore an off the shoulder black Culture Phit Ayden Dress, clutch and jewelry including Lizou wrap bracelet from my Stylemindchic Boutique. Tropical Paradise found for sure!
Trina of Tea Time with Trina loves to wear fun flats and a skirt for casual parties, and of course a summer hat. Don't you love those shoes of Trina's?
My casual party outfit was worn last weekend to a 90th birthday celebration for a neighbor friend down the street. It was warm out but not hot so I decided to wear my
Banana Republic navy patio skirt
with a linen blouse from J. Crew.
I built this outfit around the glitz and glamour on my ears. I wore no other jewelry except my wedding set and a watch. What else would I need with these babies on?
These drop-dead-gorgeous statement earrings were a generous gift from
Tamera Beardsley
, whom I had the pleasure of meeting in person recently in her fantastic home in Southern California.
She just listed them on her online shop. You can find these earrings and other luscious baubles by going 
here
.
And she's also got a give away going on right now to win one of these howlite bracelets featured above.
Go here
to find out how you can enter to win one!
Thank you to everyone who participated in HIWM this month. What a lovely group of fashionable women! Be sure to head over to
Jill's blog
to see even more great casual party outfits.
Here's what Jill and I have planned for September:
Is it just us or have you been noticing a bit of neon everywhere this summer? Day-Glo pink sneakers here, an over-the-top lime necklace there.
Doesn't it seem like a fun challenge to find a way to wear something so bright? If your answer is yes, please join us for "How I Wear My: Neon". Send us a picture of how you wear your neon by September 3.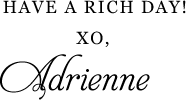 Other posts you may enjoy...