Welcome to the 24th "How I Wear My"!
But does it really qualify as a trend? We see it more as perennially popular but especially big right now.
Jill starts us off in a J. Crew leopard cardigan in non-traditional colors with always chic white jeans. This is a great transitional summer-to-fall look for right now.
Alice of Happiness at Mid-Life shows how to wear animal print to a professional setting. She added a stylish gray and black leopard print blouse to a neutral office look to spice up her outfit but still keep it work appropriate.
Suzanne of Suzanne Carillo Style Files winterized a leopard sheath dress by Ralph Lauren by adding a rust colored turtleneck, tall boots and a beret. Rust with leopard, what a great color combination. And the blue clutch adds just the right amount of color.
Teresa, wife of Denton Taylor, New York City photographer, is looking so glamorous in Vintage Armani leather pants, Gucci python shoes, Prada sunglasses, a vintage Asprey croc handbag, and a fur coat from Argentina.
Heather of Vintage French Chic carries an animal print handbag she bought as a splurge purchase for fall. Normally Heather gravitates toward vintage bags but she stepped out of her comfort zone and bought this Coach Madison Small Madeline handbag in the "ocelot" print.
Sheree of It's Not That Deep is draped in leopard with a cozy shawl for fall. Another great transitional outfit using layers to move into fall's cooler weather.
Heather of StyleMindChic says that animal print is always 'in' for her. She likes touches of it in both fashion and clothing.
This animal print skirt is a go-to for her for several seasons. Here, she wore it with a silk blouse and See by Chloe clutch that she purchased in Paris and new Nine West booties for fall.
Bella of The Citizen Rosebud knocks it out of the animal print park in this fantastic look. Many people are afraid of mixing animal prints with animal prints but Bella proves that not only is it doable but it's fabulous, too!
Vannessa of Decadence for Divas bought her animal print scarf in Madrid about 8 years ago at a small family-owned boutique. She wears it every fall and winter. It lifts any outfit she is wearing, however plain. She always gets compliments on it even if she is wearing it with a plain t-shirt and jeans. It's her "go-to" accessory during the colder months.
Amy of Denim and Dots shows us a very subtle animal print with these jeans from Victoria's Secret. Like Jill's sweater, animal prints don't always have to stay true to their colors to look modern and stylish. And sometimes a little subtlety can make a big impact.
Gee Gee of Sky Over 40 wears animal printed leather, specifically crocodile print shoes. They are 15 years old and still current.
What a classic style and great example of low-key animal print.
Déjà Pseu of Une Femme d'un Certain Ậge wears a silk Equipment blouse with black straight legged pants and black top. I love the way she lets the leopard blouse run the show!
Sacramento of Mis Papelicos, an expert pattern mixer, combines leopard with red plaid with a splash of gold. Note the big belt, huge earrings and gold bangles that complete her daring and fashion-forward look.
Cyrillynn of Any Second Now says, "I kept my look very simple by wearing a lace babydoll dress, a light blazer and printed clutch.  Although I wore all black, I made sure that the blacks had texture: my tights had a different pattern than my dress, and my shoes were velvet with glitter.  I'm glad I kept it simple, because I wanted to make sure that my fantastic clutch really stood out."
Ana of Mrs. American Made chooses a reptilian print with this flowy chiffon dress by Black Halo. The lining is lemon yellow and is attached to the dress. It gives depth to the translucency of the fabric.
Silk Path Diary looks sophisticated and modern in a knee-length leopard dress and fantastic brown Chanel handbag. I love the pin-tucks in the neckline.
Carrie of Expressive Style tells us one of her favorite ways to incorporate animal print is through accessories like this H & M snakeskin print scarf. Don't you adore that snakeskin print and its color scheme? Just gorgeous!
Tamera of Tamera Beardsley wears a drop dead gorgeous vintage leopard coat. Don't we all wish we could find one like that? And her hairstyle couldn't be a better choice with it. She's glamorous and then some!
Tori is crazy about her leopard leggings. Here, she wears them with a body-con black tank dress, long cardigan and combat boots. And for a little color, some bright red lips.
I was with Kim of Northern California Style when she bought this leopard and floral print silk Equipment blouse at Neiman Marcus. It is so chic and fun, one of us just had to have it. Since it looked better on Kim, she was that someone! Kim pairs it with distressed boyfriend jeans by Rich and Skinny and BCBG peep-toe wedges.
The day Kim bought her darling blouse above was the same day I fell in love with Equipment shirts. The fit and quality are fantastic and worth every penny, in my opinion.
I happened to be at the local outlet mall and noticed that the Saks Fifth outlet store carries a few Equipment styles. I found this leopard print blouse in black and yellow on a white background last week and had to have it. I love the small print and color palette, ideal for spring or fall.
I kept things simple and wore the blouse with my new black booties, COS bag I bought in Paris last March, and black skinny jeans from Joe's.
The temperatures are beginning to drop and it's time to say goodbye to shorts, capris and summer dresses. And while that can be a little sad doesn't it feel great to welcome back the denim that's been ignored in your closet for the past few months?
If you love denim as much as we do then please join us in November for "How I Wear My: Jeans".
Whether you prefer them skinny, bootcut, boyfriend, pegged, cropped or flared, whether you like high-rise, low-rise, sailor-style or overalls, whether you love them printed or in color or just as true blue as they were originally made, we know you have at least one pair so show us how you style your jeans!
Send a photo of you in your favorite jeans to howiwearmy@yahoo.com by November 5th and like us on Facebook to stay up to date with all things HIWM.
There are many more not-to-be-missed animal print looks on
Jill's blog
today.
Be sure to click over to see who is wearing what!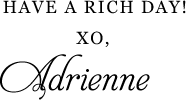 Other posts you may enjoy...