Welcome to the 25th edition of "How I Wear My"!
"How I Wear My" would not have survived this long if it were not for our fabulously stylish participants. So thank you for keeping this fun monthly series alive and growing!
To commemorate our two year anniversary, Jill and I decided to dust off our Missoni cardigans we wore for our first posts and pair them with jeans for November's "How I Wear My: Jeans".
Here is Jill in New York City's Times Square at a photo shoot with
Denton Taylor.
She is looking gorgeous in her Missoni cardigan with bootcut jeans, a black scarf and red high-heeled loafers.
Ana of Mrs. American Made looks ready for fall in this autumnal toned jeans outfit. We love that belt. It's was a holiday gift from her husband that he made for her himself!
Susan of Une Femme d'un Certain Age adds edge to her jeans with a hip moto jacket and booties. Doesn't she look like she's ready to dart around Florence or Paris on that Vespa?
Kim of Northern California Style shows how to do casual chic right in these dotted jeans by Banana Republic, khaki jacket and suede wedges by Steve Madden. Such a modern, wearable look!
Alice of Happiness at Mid-Life loves to dress her jeans up with lots of glam. Here, she's wearing her Old Navy jeans with an H & M leopard coat (that she found for $15!) and J. Crew necklace and top. Well done, Alice!
Annette of Lady of Style loves a feminine, elegant style but there are times when she feels most comfortable in jeans. However, she is not a fan of too casual looks and likes to dress up her denim by adding a blazer and heels. As a style highlight she added her new leo scarf. It was the perfect addition to create an easy going yet appropriate attire for going out for dinner.



Judith of Style Crone likes to style her jeans with vintage finds like this beautiful beaded bed jacket, taupe hat and grey gloves dotted with sequin stars.
Paula of Fashion Over Fifty says she is almost exclusively wearing jeggings, capris and skinnies these days. Paula looks so vibrant in an acid yellow sweater, white button-down and black jeans.
Alicia of Spashionista wears trouser jeans from One 5 One that she scored at Ross for $11.99. She wore this outfit while visiting Centennial Park in downtown Nashville. Those wedges look great with her jeans!
Silk Path Diary is wearing one of my favorites, Gap boyfriend jeans in a faded wash. She likes wearing them in the summer with a much loved vintage embroidered blouse and vintage glass beads. Silk Path Diary proves that you can be petite and look fantastic in boyfriend jeans!
Gracie of Fashion for Giants wears Banana Republic jeans with a thrifted plaid cardigan and DIY plaid infinity scarf.  On her feet are Nine West booties. Plaid on plaid. Love it!
Catherine of Not Dressed as Lamb was having a bit of a mauve moment the day she wore this outfit. She discovered a great new color combination of black, purple and tan. Catherine is always up for a bit of pattern mixing, and the galaxy snood and black and white polka dot shirt look perfect with her purple skinny jeans!
Pam of Over 50 Feeling 40 has been wearing her jeans the same way for years.  She loves denim with a white shirt and a black jacket.  The only difference this year is that she added the
leopard shoes.  To her, this is a classic and timeless denim style and we agree!
Tamera of Tamera Beardsley says that these white jeans are the work horse of her go-to wardrobe for errands. She is always partial to white jeans when in So Cal, winter or summer.  She always pairs her jeans with a tunic length on top as it provides a more flattering line for her shape.
We are thrilled to have a few newcomers this month including Elizabeth from Beauty Without Within. She's wearing her very favorite jeans, made by Jag, with a lightweight top in a flattering rust color, ideal for autumn.
Liz of What Liz Loves, another newcomer, dresses up her jeans for a casual yet sophisticated look. Liz says she wear this outfit to make school runs. We think she could wear this outfit just about anywhere..lunch with a friend, shopping, to the movies. It's a great classic denim look!
It's lovely to have Catherine of Aesthetic Alterations join us again for How I Wear My. Here is what Catherine has to say about her chic look:
Skinnies are my favorite thing to wear come cooler weather—they are foundation of my autumn/winter uniform.  Nothing is easier to style. Throw on boots and an eye-catching jacket or shawl, and the look is complete.  Dress boots, riding boots, ankle boots—they all work; ditto with the moto jacket, the leopard blazer, the poncho or cape.  Since I feel like I'm working 20 hours a day anymore, it's nice that styling can be this simple.
Catherine in wearing Uniqlo skinnies, Anne Fontaine button-down, Hermès poncho, Hermès Bolide, and Hermès boots (and a fun porcelain necklace from the Hermès "petit h" collection that's unfortunately not visible)
Suzanne of Suzanne Carillo Style Files wears jeans frequently. Here she dresses up a pair of edgy distressed boyfriend jeans. We love the mix of edgy with the jeans and feminine with the necklace, peplum and belt.
Tori, my beautiful stepdaughter, just bought these flared jeans and I think they are so flattering on her. She wears them simply with black suede wedges and a simple black tee. She wears it all with her best accessory – a big beaming smile!
Leigh, my colleague at Skimbaco Lifestyle and founder of the HinesSight Blog told me that as a Mom to two children under 8, she lives in jeans on most days. She laughed and said if she couldn't submit a post for "How I wear my Jeans" then she will never be able to submit a post for our series. Leigh attended a casual dinner event in Raleigh last week, and saw that friend and blogger, Chana Lynn of Raleigh What's Up, was wearing jeans, too. She convinced her to pose for a photo because these North Carolina women are wearing similar looks. They laughed when they found out they were both wearing Banana Republic Skinny jeans.  (Chana is on the left, Leigh on the right).
I am thrilled to announce that we have our first How I Wear My featuring men! Wes of Life Through Preppy Glasses is a fellow blogger and also a colleague of mine at Skimbaco Lifestyle.
Wes has fantastic style so I asked him if he would submit a photo of one of his jeans looks.  He sent this dark olive denim look for the fall season. Wes says that he loves wearing denim in fall hues because it has the ease of wear of denim but looks slightly more sophisticated than plain blue jeans. He paired them with other seasonal favorites – chunky sweater and boots. The entire outfit is by Ralph Lauren.
Like Jill, I am also wearing my Missoni cardigan from our first How I Wear My posts. I wore it with Banana Republic jeans rolled up at the bottom, Sam Edelman booties, navy tee, and my Australian Outback style hat from Montecristi Panama Hats in Napa Valley.
What a great roundup of jeans looks! Thank you to all the participants. Be sure to visit Jill's blog for even more denim looks, including another gentleman in jeans (so exciting!).
Thanksgiving will be here before you know it, with Hanukkah and Christmas not far behind, so to get yourself in the holiday spirit, break out the crimson and join us for "How I Wear My: Red".
Whether you like a dash of it to spice up an outfit or are daring enough to go full-throttle drop-dead red, send a picture to Jill or me or our email howiwearmy@yahoo.com by December 3rd so we can see how you style your favorite shade of red!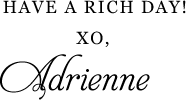 Other posts you may enjoy...