Welcome to the 26th installment of "How I Wear My"!
This month, our theme is Red!
Is it just us or does it seem like the whole world is crazy for red right now? Jill of
Everything Just So
and I knew it would be a good choice for a December "How I Wear My" post but we couldn't have predicted the amount of red we'd see in magazines and store windows!
Jill of Everything Just So starts us off with some brilliant red leather gloves from Lord & Taylor, a London Fog trench and a striped shirt from New York & Company. Denton Taylor took her photo at Rockefeller Center the day before the annual tree lighting ceremony. I am sure Jill fit right in with her festive look.
Catherine of Not Dressed as Lamb wore this outfit to a business meeting. She started with the coral cashmere sweater and added grey suit trousers and a smart check coat. The red brogues added an extra dash of brightness.
They definitely made an impression at the meeting. She had several compliments about how fabulous they were!
Ana of Mrs. American Made wears a lovely floral blouse with a classic red wool jacket by Rag and Bone. Such a casual and cozy look.
Trina of Tea Time with Trina wears an adorable red coat that is feminine, eye-catching and so festive for the holiday season!
Elizabeth of Beauty Without Within wears a beautiful Preston and York red dress. We love the leopard shoes. Animal prints go so well with vibrant red!
Nicole of High Latitude Style has this to say about her red look:
"I put this outfit together on a day when I had the song 'Lady in Red' in my head. Thus, I wanted to wear something red and combined the red cashmere sweater with my red suede skirt. I added my garnet necklace that I bought when I was 12, my red bag, red bangles, and red cuff. It may sound totally overboard, but I consider red as the brightest 'neutral'. However, when it came to shoes I took my metal mix colored kitten heels instead of further red. The reason? I wanted to not break the leg line and it was too cold for my nude slingbacks. I usually wear these kitten heels on business travel as I have to run around a lot at convention centers and they go with nearly everything."
Teresa, wife of photographer, Denton Taylor is wearing a vintage St. John knit suit she bought at the Manhattan Vintage Show. Jill was with them when they picked this beauty out and says it is in perfect shape, it looks like it was never even worn.
Heather of StyleMindChic wore red out on date night to celebrate her husband's recent birthday in Healdsburg.
She's wearing black leather moto jacket, coin ring from her Stylemindchic Boutique, St. John Knit necklace, Bandolino booties and Merona Target blouse.
Bella of Citizen Rosebud says her favorite and easiest-to-wear dress is this Karina dress that features red.
Natalia of In The Writer's Closet has this to say about her look:
"What I love about this outfit is not only that it is one of the most striking classical color combinations, red and black, but the geometry (almost architecture) of the outfit and playing with textures: boiled wool (jacket), linen (pants) and leather (booties)"
Suzanne of Suzanne Carillo Style Files says that she doesn't often wear red, especially since she started dying her hair red. When she was blond she wore it more often but now she finds it can be overwhelming. The bits of red with either shoes, or a bag are an easier way for her to wear it.
Anne of Music and Markets is seen here strolling Georgetown, D.C. in a springtime red. It would be easy to find her in a crowd! The scarf is from a Paris boutique in the Marais and she's carrying a gold Michael Kors bag.
Kerry, a reader from Tasmania shows us a vintage Burberry coat she found in a thrift shop! She has this to say about her find:
"I actually only have one red item in my whole wardrobe, but I LOVE it. This vintage Burberry trench was picked up in a thrift store for just fifteen dollars and once I had taken the sleeves down and shortened it to more of a classic pea length it was ideal. I had been on the hunt for a Burberry trench for about 30 years but never expected to find a red one. I nearly didn't buy it as it was so unexpected but I am glad I did and wear it all the time. Last weekend a good friend gave me this "Burberry' style scarf and it goes with it perfectly as it is identical to the lining. Would you believe I found her a vintage Chanel scarf for ten dollars and gave that to her as a thank-you. Rock Your Vintage!!!!"
Lisa Walsh and Suzie Carter, owners of Persolé Chic Shades model their limited edition red leopard Persolé. Perfect for the holidays to keep you dry and protect you from sun damage with its UV-ray blocking material.
Charlotte from Sublime Mercies wears a 1940's style polka dot dress. She says wearing red helps her cope with the dark and dreary days of fall and winter and makes her feel a little brighter.
Silk Path Diary carries a red vintage treasure from 1964 in marvelous condition. It's an Hermes Drag bag. Gorgeous, isn't it? All she needed to do was condition the leather and the bag simply glows once again. She wears mainly neutrals so using red accessories is the perfect solution for her.
Hang from Poum! La Mode goes head-to-toe red in this Maison Martin Margiela cotton T-shirt with lots of kisses, Issey Miyaké Pleats Please skirt and Giorgio Armani pumps.
Karen of New Feminine Paradigm wears Diane Gilman red pleather jeggings, gloves by Victorian Trading Co. and sweater by Christopher and Banks.
Liz of What Liz Loves happens to love red! She thinks it is so uplifting and cheerful. The dress is one she goes to when she wants to feel festive yet comfortable. It is the Boden "Audrey" dress from several seasons ago.
Alice of Happiness at Mid-Life wears a business look inspired by an Olivia Palermo outfit.  She likes the mix of patterns with lace and checkered print. The skirt is from Ann Taylor, top from J. Crew, and the red blazer from White House Black Market.
Rachel of Trying for Sighs looks so modern and stylish in her red dress and red booties. She has this to say about her look that she wore to a German Christmas market in the UK.
"I always bring red out of my wardrobe at this time of year. A bright, festive colour perfect for this season. Red is definitely a favourite colour of mine and it has a way of giving me a boost if I'm having a down day."
You all probably know Leigh of Hines Sight Blog already. Here she is at an event with her husband wearing a holiday look appropriate for the warmer than usual weather in North Carolina. The cranberry red cords go so nicely with her bronze sparkly sweater!
Reeta of House of Anaïs says,
"This red leather jacket is made for grey days when I feel like I need a pop of colour. I bought some 10 years ago in Finland, and it has travelled with us to three continents – first it moved from Finland to England, then to US and on to China, and back to England again this year. Sometimes I even team it up with red leather pumps or strappy red sandals and my red Burberry handbag. In December I feel very Christmassy when I am wearing my red leather jacket!"
Wes of Life Through Preppy Glasses, who writes for Skimbaco while going to college in New York City, picked a wardrobe staple with this red cashmere cable knit sweater by Ralph Lauren.
Satu of Destination Unknown, a Skimbaco team member living near Norway, says she wears her red usually on the mountains with baby sleeping in the front or toddler sleeping in the back!
My stepdaughter, Tori and I have lots in common including very few items of red clothing in our wardrobes. We both prefer wearing red in smaller amounts, adding it to neutral outfits.
Tori's wearing a black sheath dress with lace panels on the shoulders and tall black boots by Franco Sarto. She added accents of red to her look with a thrifted red clutch, red nails and red lips.
I also wore a sheath dress – thrifted for $5.00 – and black Franco Sarto boots.
My nails are red, too, and I am carrying a red and leopard handbag I bought in Paris in 2008 that I have always adored.
Tori and I thought the red door of The Kenwood Depot, where my husband and I held our wedding reception in 2001, would be a great backdrop for How I Wear My: Red.
Thank you to my dear friend, Sylvia Steininger for taking these photos of Tori and me.
For January's How I Wear My, Jill and I would love to see you in your coat!
We are specifically looking for coats in unusual shapes, colors, patterns or textures, so if you have a great coat to show join us for "How I Wear My: Coat" by sending us a picture by Monday, January 6, 2014.
Thank you to all the wonderfully stylish participants who make "How I Wear My" posts possible.
Be sure to check out even more fantastic "How I Wear My: Red" looks on Jill's blog,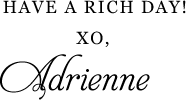 Other posts you may enjoy...